How Employee Diversity and Inclusion Become Competitive Advantages
5.23.17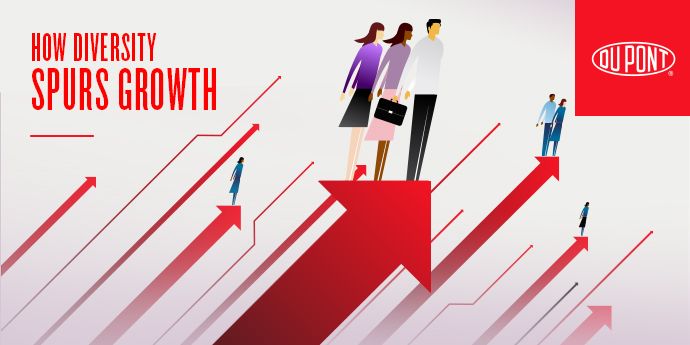 When Todd Sears started his career as a Wall Street investment banker in the late '90s, he had to be discreet about his sexual orientation and sought another job where he could bring "his whole self to work." In a more welcoming atmosphere, he opened a lucrative new market for his subsequent employer, catering to lesbian, gay, bisexual and transgender clients, a groundbreaking idea for the time.
Stephen Frost, head of diversity and inclusion for the London Olympics and author of the book The Inclusion Imperative, says this situation is hardly unique: Frost's research found that people within the LGBT (Lesbian, Gay, Bisexual and Transgender) community who remain in the closet are 10 percent less productive than those who feel they can be themselves.
Having a diverse and inclusive workforce — with people of different races, gender identity or expression, sexual orientation, veteran status, abilities, religions, national or ethnic origins that respect and appreciate differences — is fast becoming an imperative for companies around the world. "Diversity and inclusion is not a 'nice to have' feature in an organization," says Marc Doyle, an executive vice president at DuPont. "It is absolutely critical in healthy, high-performing organizations with a future focus."
Doyle is the executive sponsor of the DuPont Women's Network employee resource group, and prioritizes visits with local chapters whenever he visits DuPont sites. He also notes that it is very important to be aware of the unconscious biases that influence behaviors.
"True inclusion must be fostered," adds Gayle Gibson, former director of DuPont Engineering. A long-time advocate of diversity and inclusion in the workplace, Gibson previously served as the executive sponsor of the BGLAD (Bisexuals, Gays, Lesbians, Transgenders and Allies) network at DuPont and was a long-time member of the DuPont Women's Network. She notes that it's easy to look at numbers and think a group is diverse, but it takes active engagement to make people feel that they can truly express their views and opinions in a safe environment without penalty. "Each of us has a responsibility to respect others — to listen, engage and value inputs from others. These are the first steps to true diversity and inclusion, and enable us to create brand new ideas by building on others' thoughts."
While this makes intuitive sense, a growing body of research data is also making the business case for diversity and inclusion. Consider a Harvard Kennedy School study of 550 business students who were randomly assigned into 45 groups to start a new venture. Teams with an equal gender mix performed better than male-dominated teams in terms of sales and profits. What's more, the profits increased steadily as the share of women on the team inched up to 50 percent, but then flattened out for teams with more women than men.
Creative Abrasion
How, exactly, does diversity and inclusion lead to business results? A group of researchers who wrote a report about leadership and innovation called "Collective Genius" noted that many companies solve problems by domination or compromise, resulting in less than inventive solutions.
Truly innovative companies, though, rely on "creative abrasion," the researchers' term for generating ideas through discourse and debate, which leads to combining ideas that at first might seem mutually exclusive.
These results often depend on having people from diverse cultures and backgrounds and being open to new ideas. Todd Pittinsky, a professor at Stony Brook University who investigates problems and the underestimated potential of diverse communities, believes that diversity alone does not increase company profitability in the short term.
His research found that benefits accrue when many individuals have not just a lack of prejudice but also positive feelings such as admiration, comfort, and kinship toward those who are different. "There's been a preoccupation with negative attitudes ('the isms') and the false assumption that people will at best be lukewarm to those who are different," he says. In fact, "The large majority of the population is open and genuinely curious about the differences," he says. These positive feelings, known as "allophilia," can only happen through on-going, personal interaction. This is why inclusion, not just diversity, is so important.
Multi-Dimensional Diversity
It's clear that diversity, and the diverse ideas that accompany it, have a significant impact on the bottom line. A study by McKinsey & Company found that companies in the top quartile for gender or racial and ethnic diversity are 35 percent more likely to have financial returns above the national industry medians. Companies in the bottom quartile for diversity are more likely to have below-average returns.
As McKinsey notes: "The unequal performance of companies in the same industry and the same country implies that diversity is a competitive differentiator shifting market share toward more diverse companies."
McKinsey shares the view that these results happen over the long run: diverse firms are more likely to recruit the best talent and improve their customer orientation, employee satisfaction, and decision making. In McKinsey's report, researchers hypothesized that other types of diversity — such as age, sexual orientation, and even experience (such as a global mind-set and cultural fluency), for example — would boost profits as well.
Indeed, this concept of other types of diversity was actually tested by the Center for Talent Innovation (CTI), which reviewed 40 case studies and 1,800 employee surveys to examine two types of diversity.
The first was "inherent diversity," such as gender and race. The second diversity was something that people rarely think about, "acquired diversity," such as global experience and language skills.
Publicly-traded companies that had both kinds of diversity — which CTI labeled "two-dimensional diversity" — were 45 percent more likely to have expanded market share in the past year and 70 percent more likely to have captured new markets than companies without both types of diversity.
As DuPont's Angela Naef stated in 2016, "At the end of the day, a commitment to diversity and inclusion makes you more competitive, better able to know who you are innovating for and why — that translates to differentiation in the marketplace."
DuPont's commitment to diversity and inclusion is important to our company — welcoming all kinds of people, considering all points of view and building on these to innovate. It's better for the bottom line; and moreover, it's better for our community and our society as a whole.