Soil Conservation Fights Land Erosion
5.16.17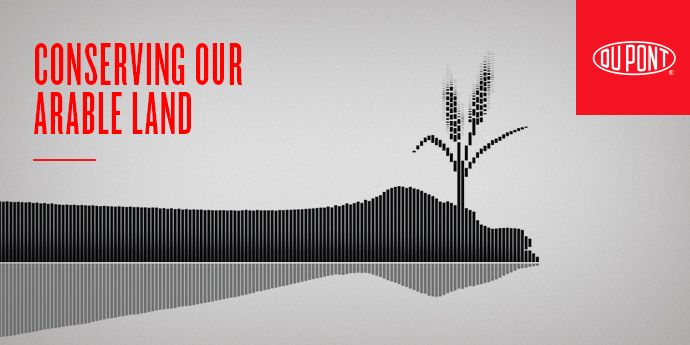 A hard rain washes out your backyard vegetable garden. So, you drive to the local nursery or big-box hardware store. A dozen bags of fresh loam and topsoil, and you're back in business. It's dirty work, but no big deal. Except it is.
Scientists estimate it takes nature 500 years to create an inch of soil. A windstorm or flood needs only minutes to displace and disrupt the life-giving power of this nutrient-rich earth.
Less than three percent of the world's land has fertile soil. So, every productive plot lost to weather, deforestation, desertification, drought, or poor farming practice makes our food supply a little less secure.
Unfortunately, in many parts of the world, arable soils are diminishing faster than they are being naturally produced. In the U.S., the biggest farm soil erosion problems along each coast are caused by water; in the Midwest and Southwest, by wind. A 2015 scientific research review, "Soil and Human Security in the 21st Century" advised that unless steps are taken, this global problem threatens humanity's ability to feed itself.1
As a result, a growing coalition of government, business, philanthropic, and scientific groups have made improving the quantity and quality of fertile soils a top priority.
Plateaus Spark Innovation
Much of the work in this area focuses on discovering new ways to continue advancing gains in soil conservation made over the last 80 years. Agencies like the USDA's Soil Conservation Service, now the Natural Resource Conservation Service (NRCS), have worked with farmers and land owners since the Dust Bowl of the 1930s.2 Recent studies show that decades of no-till and conservation tilling, terracing, crop rotation, contour farming and other techniques have paid off, ­increasing land yields and slowing soil loss for most crops.
Yet there's evidence that these dramatic gains have plateaued, or decreased in some cases. A recent report called Field to Market: The Alliance for Sustainable Agriculture details these changes. Researchers found that tons of soil-per-acre available to grow barley, for example, fell from 7.5 million tons in 1980 to around 4 million tons in 2015, but is now trending back up.3 Allison Thomson, science & research director at Field to Market, told Milling & Baking News: "We … need to find new practices, such as cover crops, to help us continue to improve the trend in soil erosion."4
In 2015, the NRCS began focusing on new ways to help growers improve their Soil Conservation Index (SCI) score. Key among recommended approaches: planting more cover crops to reduce erosion, and raising crops that produce high amounts of residue (biomass waste).
Betting on Cover Crops
Cover cropping is the traditional practice of planting clover, radishes, and other crops between the growing seasons of corn and other crops.5 Benefits include slowing soil erosion, improved soil health and better pest and disease control, according to the USDA's Sustainable Agriculture Research and Education (SARE) program.
The 2012 Census of Agriculture report found cover cropping on only 10.3 million of about 390 million farmland acres sown with crops. But a newer SARE survey of 1,200 farmers suggests rapid growth of this practice with acceptance as high as 100 percent in some areas.6
"We've never seen anything taken up as rapidly as using cover crops," Barry Fisher, a soil health specialist at the Natural Resources Conservation Service, told the New York Times. 7, 8
Adoption continues to rise. The 2016 Cover Crop Survey of 2,020 farmers from across the country found that the planted acreage of cover crops continued its steady rise — reaching an average of 298 acres per farm in 2015 and projected to grow to a mean of 339 acres in 2016. Those figures are more than double the acreage survey participants said they planted in 2011.9
This has not been a U.S.-only-focused effort. Sandy Endicott, senior agronomy manager at DuPont Pioneer, says Brazilian farmers are leading the way — using no till management, cover crop planting and even using intercrop management, planting cash and cover crops in the same field. Necessity has truly been the mother of invention in Brazil, as they have experienced high levels of soil erosion due to high levels of winds and rain. Endicott has visited fields that were 6–7 feet higher than the roads between them. This mixture of soil management techniques ensure Brazilian fields maintain a high level of fertile topsoil.
Residue to the Rescue
The other promising soil conservation method involves leaving crop tillage, or residue, on fields. The practice helps stop erosion and build soil quality. DuPont Pioneer scientists have taken a lead in this field, accelerated by collaboration with the USDA begun in 2012.
The partnership started as a way to stop erosion and build soil quality on private lands used to supply bio-based feedstocks for cellulosic ethanol production. Work continues today to help growers understand and optimize how much corn stover — leaves, stalks and cobs — should remain in the field for maximum sustainability and erosion protection.
The effort, considered a model for public/private conservation partnership, continues to produce valuable data, research and best practices that can be applied to the production of food as well.
Better Mapping and Tracking
Technology also plays a growing role in today's soil conservation efforts. A website run by the National Cooperative Soil Survey features soil maps and data for 95 percent of U.S. counties, including "fragile" soils.10 The Daily Erosion Project, a website created by Iowa State University, provides interactive maps, data and methodologies related to soil displacement.11 As a key part of its research into the development of new soil conservation practices, DuPont works closely with participating farmers to conduct GPS mapping of planted fields.
In addition to this data, there are DuPont Pioneer offerings such as EncircaSM services that help growers to segment their fields into specific management zones and target each of these unique zones with prescribed seeding and fertilization recommendations to help increase yield potential and minimize crop input costs.
This increased information helps build a deep relationship between growers and their Certified Services Agents, as they break down fields into decision zones. Travis Kriegshauser, senior services manager at Pioneer, says the goal is to move from "precision ag to decision ag" and ultimately encourage improved land use practices that help growers maximize yield and preserve the value of their land.
Growing Collaboration
Beyond the science and agricultural practice, there's been another discovery: Soil erosion is so big, so complex that greater collaboration is needed along the entire supply chain. Fortunately, growers' associations, trade groups, university researchers, governments, private businesses, and philanthropies are more than ever uniting on soil conservation research and programs.
Pioneer is collaborating with The Nature Conservancy on a project to improve the use of cover crops, conservation tillage and sustainable agricultural practices in the Boone River Watershed. Initiated in 2014, the project is already making strides to demonstrate improved water quality.12
State governments are also sharpening their focus on erosion. Indiana's new five-year plan, for example, prioritizes degradation, including top soil lost due to wind and water. In 2017, their State Soil Conservation Board will explore a soil conservation marketplace as well as working with Certified Crop Advisors (CCAs) and the private sector to help promote agronomic conservation practices and technologies. Advocates say such cooperation and mobility between organizations is crucial for success.
Fresh Fields Ahead
Many efforts are starting to focus on helping farmers understand the benefits of switching to more soil-friendly practices, explains Chad Watts, executive director of the Conservation Technology Information Center.
Such efforts are aided by new research, including studies by Iowa State University and DuPont showing the economic value of crop covers and residue management. Researchers found partial (less than 50 percent) stover removal improved soil quality and the subsequent corn yields by 5.2 bushels per acre in 90 percent of fields surveyed.
These new and existing challenges, concludes the Field to Market report, present "both challenge and opportunity for technological innovation and expanded adoption of conservation practices."
--------------------------------------------
Sources
1 http://www.scidev.net/global/farming/news/soil-erosion-threatens-global-food-security.html
2 http://www.nrcs.usda.gov/wps/portal/nrcs/site/national/home/
3 http://fieldtomarket.org/national-indicators-report-2016/soil-conservation/
4 http://www.bakingbusiness.com/articles/news_home/Business/2017/01/Ag_study_sees_environmental_ga.aspx?ID=%7B0D6709C0-243B-43A7-A241-16C105F73F14%7D&cck=1
5 http://www.sare.org/Learning-Center/Topic-Rooms/Cover-Crops
6 http://www.sare.org/Learning-Center/From-the-Field/North-Central-SARE-From-the-Field/2015-Cover-Crop-Survey-Analysis
7 https://www.nrcs.usda.gov/wps/portal/nrcs/site/national/home/
8 https://www.nytimes.com/2016/02/07/business/cover-crops-a-farming-revolution-with-deep-roots-in-the-past.html?
9 http://www.ctic.purdue.edu/Cover%20Crops/
10 https://websoilsurvey.sc.egov.usda.gov/App/HomePage.htm
12 https://www.nature.org/ourinitiatives/regions/northamerica/unitedstates/iowa/boone-river-review-winter-2017.pdf