Banking on Breadfruit to Fight World Hunger
11.6.17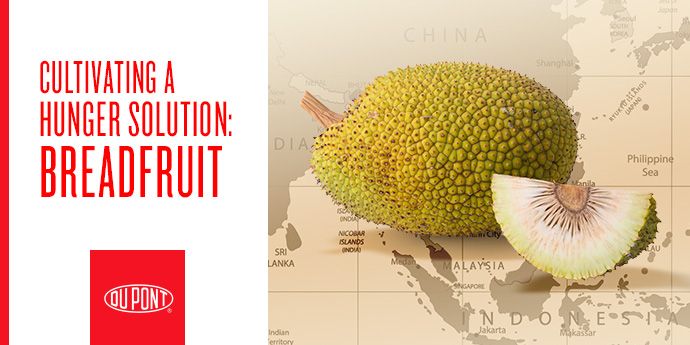 Visitors at the National Tropical Botanical Gardens (NTBG) in Hawaii are not surprised to discover a lush garden of palms, hibiscus and fuchsia plants.1 After all, botanical gardens serve as living libraries and research centers for botanical conservation. Expectations quickly change when visitors arrive at the Breadfruit Institute, a division of NTBG, with facilities on Kauai and Maui.2
At the Institute's gardens, one can tour a small forest of 150 varieties of the fruit-bearing tree familiar to Pacific Islanders. Collected by the Institute's director, Dr. Diane Ragone, during her 33-year career, the trees produce a starchy, carbohydrate-like fruit that has a nutritional value similar to potatoes, rice and maize.3 Captain James Cook brought the fruit to the West after his 1769 visit to Tahiti, ensuring the survival of many British sailors during their seafaring voyages.4
Today, the NTBG café sells tasty offerings made with this nutrient-rich superfood.5 The same menu can be found halfway around the world from Hawaii, as the Breadfruit Institute partners with scientists, commercial greenhouses, NGOs and governments to commercially distribute the trees.6 International agencies consider breadfruit the "tree of life," banking on its wide-scale cultivation to provide food security for the world's growing population and diversity of the global supply chain.7 It just may be the superfood that many hope for. Since the Breadfruit Institute's establishment in 2003, it has cultivated and shipped more than 100,000 trees to 44 countries in Asia, Africa, and Central and South America.8
From the Garden to the Lab
Trees that thrive in tropical environments are not automatically candidates for commercial propagation. Dr. Susan Murch, a professor of Chemistry, Earth and Environmental Sciences at the University of British Columbia, studied the difficulties of growing breadfruit while serving as an NTBG research associate from 2003 to 2005.9
When Murch accepted the Canadian-based professorship, she brought tree branches from the Breadfruit Institute to her lab, determined to unlock the secrets of cultivating the stubborn plant. It took her three years to develop the right system for culturing the plants.
"We had two problems to solve," says Murch. "The first hurdle was helping the tree deal with the stress of cutting. When you cut into a plant, you injure it. When stressed, the tree releases phenolic compounds, which are sugars that kill the plant cells and turn the roots brown and mushy."
Next came the problem of disease. Breadfruit has a sticky, latex-like layer that can hold fungus or bacteria. "We certainly didn't want to spread tropical fungus to other continents," Murch exclaims. After developing a system to sterilize the roots, Murch reached out to Axel Feldhoof,10 a scientist at German-based Innova Plants to conduct pathogen testing.11
Once certified as free from disease, the cultured plants would get acclimated in a warm, moist environment before shipment to commercial greenhouses around the world, including California, Florida, New Zealand, Poland, Kenya and 20 other countries.
"We worked on more than 100 of the varieties to find 30 that could be cultivated in a sterile, controlled environment," says Murch. She also credits graduate students working over the course of three years for developing a baseline of nutritional data on the amount of proteins, potassium, iron, minerals and vitamins each breadfruit variety contained.
In 2008, Murch shipped the first successful Breadfruit cultivars directly to Honduras on behalf of the nonprofit Trees that Feed Foundation.12 The project came to Murch's attention via a board member of the Breadfruit Institute.
Branching out into the World
The team still felt it needed more partners to scale up an international operation. In 2010, Dr. Murch, Dr. Ragone and Breadfruit Institute board members sought out Josh Schneider, a partner at Cultivaris, a San Diego-based greenhouse that specializes in independent plant hybrids.13 "He was essential in helping us go from a lab that could propagate a thousand trees to an outfit that could ship tens upon tens of thousands of trees worldwide," says Murch.
In 2011, Schneider cofounded Global Breadfruit, LLC, rolling up the activities of the Hawaiian-based Institute, Canadian research lab and German pathogen testers into a worldwide collaboration.14 From his San Diego office, he oversees operational logistics, obtains international agricultural permits, oversees transportation to and from the greenhouses and issues production guidelines for tree planting and harvesting. Schneider recently returned from a six-week trip to Africa, where he conducted educational outreach and workshops on cultivating breadfruit trees.
Findings from The Economist Intelligence Unit's Global Food Security Index, sponsored by DuPont, recommend local solutions as the best method to fight hunger in countries. "A single breadfruit tree can produce 150 to 200 kilograms of nutritious fruit per year and produce fruit for more than 50 years in someone's backyard," says Murch. "It represents a huge opportunity to alleviate hunger in areas of the world where food is scarce."
------------------------------------------
Sources:
1 https://ntbg.org/
2 https://ntbg.org/breadfruit
3 https://ntbg.org/about/staff
4 http://globalbreadfruit.com/about/history/
5 https://ntbg.org/breadfruit/food/recipes
6 http://globalbreadfruit.com/about/
7 https://voices.nationalgeographic.org/2014/09/12/breadfruit-could-be-vital-food-source-in-extreme-climate/
8 https://ntbg.org/breadfruit/work/globalhunger
9 http://chem.ok.ubc.ca/faculty/murch.html
10 http://globalbreadfruit.com/our-team/dr-axel-feldhoff/
11 http://www.kientzler.eu/en/kientzler-group.php
12 https://www.treesthatfeed.org/