DuPont Celebrates Veterans All Year Long
11.8.17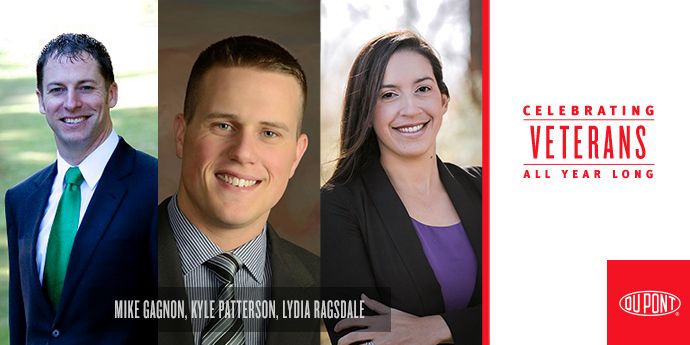 Army veteran Lydia Ragsdale remembers the day, back in Iraq in 2005 when the DuPont™ Kevlar® armor that a fellow soldier was wearing saved his life. Today, some 12 years later, Ragsdale works as a DuPont™ Kevlar® master scheduler for DuPont out of her home office in Billings, Montana. "I saw how valuable [the armor] was," she says. "I made that personal connection to what saved his life."1
Ragsdale is one of hundreds of veterans who work around the globe for DuPont. She's a living embodiment of the company's commitment, made in 2012, to hire at least one out of 10 employees who are veterans of the U.S. armed services.2 "We continue to pursue hiring veterans, who are an excellent source of knowledge, skills, experiences and diversity in our mission to hire the very best," says Oliver Major, North America Talent Acquisition Leader at DuPont.
But DuPont's commitment to veterans doesn't end in the hiring arena. The company also helps with the transition to civilian life and accommodates those veterans who still serve in the National Guard.
"DuPont Pioneer is very accepting of when I have duty," says Kyle Patterson, a sales support specialist with Pioneer who works with some 60 Nebraska sales representatives. Patterson finished officers' candidate school in 2014 and was commissioned as a second lieutenant. In the National Guard, he's a combat engineer officer specializing in both mobility and counter-mobility.
The Support to Serve
Patterson is thrilled that DuPont provides up to 30 days of paid military leave. "Someone covers my area when I'm gone; and they do a great job," says Patterson, who joined DuPont in the spring of 2016. He notes that he remembers his grandfather using Pioneer products on the family farm near Collins, Iowa, years earlier.
Many veterans and DuPont employees who still serve in the National Guard find that their military training helps immensely when it comes to their role at DuPont. Ragsdale was a Quartermaster Officer in the Army from 2001 until 2010. Her skills in the Army, supporting and provisioning troops, directly transferred to her current role as a master scheduler.
Likewise, Patterson's work in the 832 Engineers Iowa National Guard — he is now a first lieutenant commanding 60 soldiers — involves a lot of logistics. "My roles and duties are very similar to what I do here at Pioneer," he says.
Veteran Michael Gagnon served from 1999 to 2005 in the Navy as a nuclear propulsion engineer. After his service, Gagnon went back to school to earn a B.S. and Ph.D. in chemical engineering eventually joining DuPont in 2013. He now serves as a research investigator and engineer in the Recovery, Formulations and Bioprocess group in DuPont Industrial Biosciences in Wilmington, Delaware.
Gagnon's work in the Navy on nuclear-powered submarines prepared him well for his current role in biomaterials process development. Both sets of responsibilities are "running a process," he says. At DuPont, Gagnon takes concepts that DuPont chemists and biologists develop and helps scale them up from the lab to pilot testing, and eventually to commercialization.
"The skill sets just matched up," he recalls. "I had the chemistry background. And, I had the engineering background to make a difference for products to help our customers."
For these three veterans and the hundreds of others who work at DuPont, it's about bringing skills to the workforce, and about helping new veterans transition. Ragsdale's husband still serves in the Army. But when he was transferred to Billings, Montana, Ragsdale's supervisor allowed her to relocate there. "DuPont is very supportive of veterans," she says.
For some veterans, the biggest challenge is adapting to civilian modes of decision-making, which can be more consensus-driven — and less top down — than in the military. "DuPont made it very easy for me," says Ragsdale who admits that she had to learn some new ways to communicate.
For his part, Gagnon quickly joined the DuPont Veterans Network, which helps many new veteran employees with their transition to civilian jobs. "There are some military habits that you didn't realize that you had," says Gagnon.
DuPont's Employee Veteran Network
DuPont's Veterans Network has a mission to support employee veterans who can then serve as advocates on veterans' affairs and employment issues within DuPont. The network contributes to professional development, supports the hiring and retention of veterans, and assists in the transition from military to civilian work.3 The Network has members who are veterans as well as non-veterans.
Probably the one thing that binds all DuPont veterans is pride of service — in both the military and at DuPont. Ragsdale herself wore Kevlar® for the year she was deployed in Iraq. "It gave me a lot of purpose," she says, "and a lot of heart for what I do."
For more information on careers available at DuPont for veterans, please visit: http://dupont-veterans.jobs/.
-----------------------------------
Sources:
1 http://www.dupont.com/products-and-services/personal-protective-equipment/body-armor.html
2 http://www2.dupont.com/media/en-us/news-events/august/dupont-veterans.html