Wendy Srnic: When Biology is Your Calling
10.25.16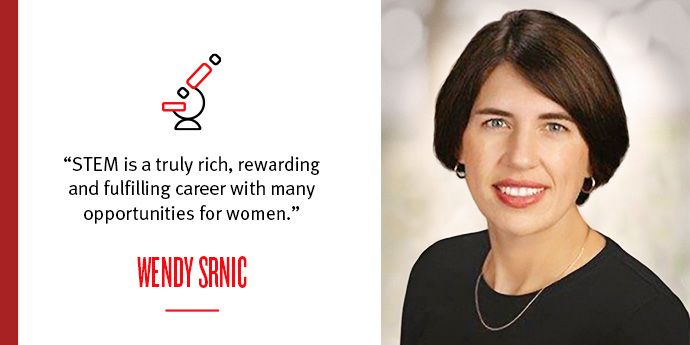 Growing up on a thousand-acre family farm in rural Michigan, Wendy Srnic loved "getting her hands dirty" gardening and raising livestock — in the case of her family — cattle. As a child she actively participated in both 4-H and FFA. Srnic, now research director of Integrated Product Characterization & Development at DuPont Pioneer in Johnston, Iowa, says "as far back as I remember, I had strong ties to the land. You get a good feeling because what you're producing is actually nourishing families, communities, and society as a whole."
Today, Srnic still has those ties. She is the leader of a team of 350 employees spanning four countries that is responsible for a key step in the DuPont Pioneer pipeline for getting new hybrids and varieties of corn, soybeans, and other crops to market.
Srnic earned her bachelor's degree in Crop and Soil science from Michigan State University, and her doctorate in Crop and Weed Science at North Carolina State University. Srnic came to DuPont Pioneer after a number of roles in breeding and biotech in the United Kingdom and Italy.
A Proud Moment
One of Srnic's proudest career achievements started in 2012, when she was asked to transform Pioneer's system for "trait integration" (TI). TI is the process by which traits are bred into plants. The teams she led in Puerto Rico, Hawaii and Brazil were able to double the efficiency of the program by implementing changes in technology and process — helping to bring new products to farmers more quickly than ever. "We moved the needle and created something amazing," says Srnic. "I looked upon that project as a time that we really made a difference."
So impressive were the results that in 2015 Pioneer awarded one of its highest honors for research scientists — the Henry A. Wallace Agricultural Revolution Impact Award — to the groups responsible for the transformation of TI.
"I am very proud of the team," she says. "My role was to sell the vision and keep the team pointed in the right direction. They fired themselves and each other up to change the system, which was no small feat — I am awed at the power of an aligned group of committed and innovative people."
Indeed, Srnic says the biggest professional opportunity she faces on a daily basis is achieving this kind of alignment. "Whenever you have a group of scientists and leaders, you are going to hear a lot of great and even brilliant ideas, all of which have potential. But sometimes the resources aren't there, or it's just not the right time to implement a particular idea. My job most days is to try to align my teams and colleagues on the research ideas we do want to pursue without devaluing the other ideas, to challenge our leaders to align, so our people can do their best."
A Passion for Increasing Opportunities
As a female in a male-dominated industry, Srnic is especially passionate about increasing the presence of women in STEM (science, technology, engineering, and math) fields.
"STEM is a truly rich, rewarding and fulfilling career, with many opportunities for women and the skills they bring — both technical and leadership skills," she says. She recommends that young women go as far as they can with their education — to a doctorate if possible. "Do it. Go as far as you can with your education, while you have the freedom and don't have family and job obligations." Wendy is a great role model for others. As a wife and mother of 4 young children, she was recently awarded the DuPont Working Mother of the Year Award.
Throughout her career, Srnic has had supervisors and colleagues not only as mentors, but also to lobby to give her chances, put in good words for her, and introduce her to the right people. In turn, she gives back. At any given time, she is mentoring three to five women scientists. She created and leads a "Women in Agricultural Science" peer mentoring group with industry, academic, and public institution women scientists from all over the USA. She is passionate about developing Women in Pioneer and in Science and currently leads the Pioneer Women's Network.
STEM is hard, Srnic says, and "we all hit a wall at some point. But if you can work your way through that wall, the rewards on the other side are worth it."