Honoring Scientific Excellence with Bob DiCosimo
10.16.17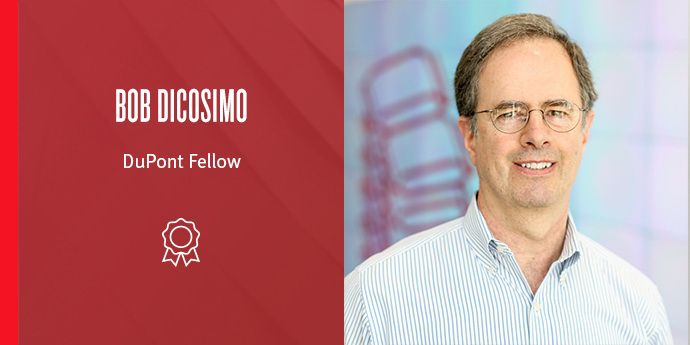 Bob DiCosimo is a master of bioprocess innovation, as his track record of developing new solutions for society clearly demonstrates. A DuPont employee since 1988, DiCosimo is a DuPont Fellow: one of the highest honors a scientist can achieve in the company. With degrees from Rutgers and MIT, DiCosimo has integrated technology from a broad range of disciplines to create an impressive array of proprietary bioprocess technologies.
He has close to two hundred inventions on his resume and leads multidisciplinary teams of scientists and engineers: biochemists, microbiologists, molecular biologists, enzymologists, chemists and chemical and biochemical engineers. His activities run the gamut of scientific and business importance, from discovery-based research, to intellectual property development, to cost analyses, process development and commercialization. And he's passionate about mentoring others and helping recognize scientific achievements.
With this extensive background, DiCosimo was honored to chair the Pedersen Medal selection committee sponsored by the DuPont Fellows Program. The prestigious award is an honor reserved for individuals who achieved outstanding scientific and technical breakthroughs that deliver significant value for customers. This year Paul Fagan, Arthur Ouwehand and Dave Rodini received the award.
The process for selecting these individuals is a lengthy and exacting one that draws nominations from across the entire DuPont portfolio of businesses. The decision is made by a group of DuPont Fellows and Technical Fellows that review the documentation and make selections based on the relative strengths and merits of each of the nominees.
A Pedersen Medal recipient himself in 2011, DiCosimo says the latest group of awardees, "demonstrate the extent of scientific and technical leadership that characterizes the excellence at DuPont. It's a unique honor to be recognized by peers at this level."
DiCosimo's Diverse Career
"I have had the opportunity to work on agricultural chemicals, pharmaceutical intermediates, polymer intermediates, food ingredients and specialty chemicals," says DiCosimo. "This provided me with many opportunities to learn new science and new engineering, and I have very much enjoyed my work."
Today, as a senior scientist in DuPont's Industrial Biosciences (IB) business, DiCosimo works to commercialize research by collaborating closely with the R&D teams within IB and customers.
Recently, DiCosimo has been involved in improving science applications for food ingredients. "Everyone knows the health benefit of eating fiber for a healthy diet," says DiCosimo. "The production methods we're working on would bestow benefits for how food is prepared and how it tastes as well as for health."
About the dual nature of the Pedersen Medal, which rewards both scientific excellence and customer value, DiCosimo says that this is the reason he initially chose — and has stayed with — DuPont over his long and distinguished career. "I've always had a strong desire to work on projects that focused on how science could be harnessed to potentially benefit society," he says. "DuPont offers that unique opportunity."