Lavoisier Medalist Focuses on Research
10.16.17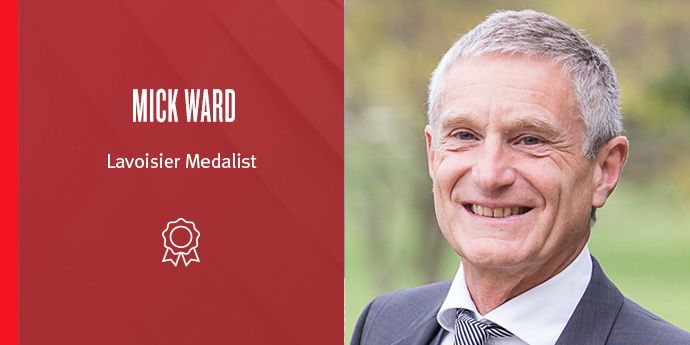 Mick Ward's journey began in Palo Alto, California, when, fresh from his academic roots in the United Kingdom, he accepted a job at Genencor as a molecular geneticist and microbiologist. With DuPont's acquisition of Genencor in 2011, Ward now has accumulated more than 30 years in total at Genencor and DuPont Industrial Biosciences, at what he calls his "first and only job in industry."
"My decades here have allowed me to focus on the research," says Ward. "And I really like the fact that my research is applied and leads to products that people actually need."
Now a DuPont Fellow in DuPont Industrial Biosciences, Ward is the recipient of a Lavoisier Medal, which honors the men and women whose extraordinary technical achievements have resulted in significant business impact and enduring scientific value.
Ward is the lead developer of DuPont's fungal expression systems, which are used to produce a wide range of enzyme and protein products for such diverse industries as biofuels, sweeteners, animal feed, food and textiles.
"I'm proud of the fact that we have built technology that enables us to manufacture proteins at very low cost, and that year over year we've been able to improve that technology and reduce the cost even further," Ward says today, "It's what has kept us competitive."
With more than 50 publications, Ward represents DuPont in various external collaborations with academic and scientific institutions. He also serves a key role as liaison for R&D with regulatory, legal and manufacturing teams across the company.
Lab Time
About choosing a career as a scientist, Ward says, "I always enjoyed playing with things. I particularly liked the laboratory side of science. Early on, I thought that I would be an ecologist or a marine biologist because I enjoyed doing things outdoors. But I became more interested in cell and molecular biology later in my education, so I became a laboratory scientist."
One of the things he most enjoys about DuPont is that even now — as a senior scientist — he can still work in the lab. "I really enjoy the hands-on part of the science," he says.
Much of his lab time is spent mentoring younger scientists — an activity he especially enjoys. "I've had the privilege to work with a lot of really good scientists who are developing similar technologies. I like to think I've acted as a good mentor to many of those people," he says. And he finds that the best way to mentor people is to work with them in the lab, not just sit in his office and hope they come and talk to him. "I like to work side-by-side with people in the lab — to teach them by setting an example," he says.
All in all, it's been an interesting journey, Ward says. "When I began at Genencor, it was just a small start-up company, very fast paced, very exciting," he says. "Now we're part of an enormous multinational, company. Yet DuPont has enabled us to maintain our particular culture and the fast-paced, exciting atmosphere."