Sustainable Architecture for Future Cities
9.27.16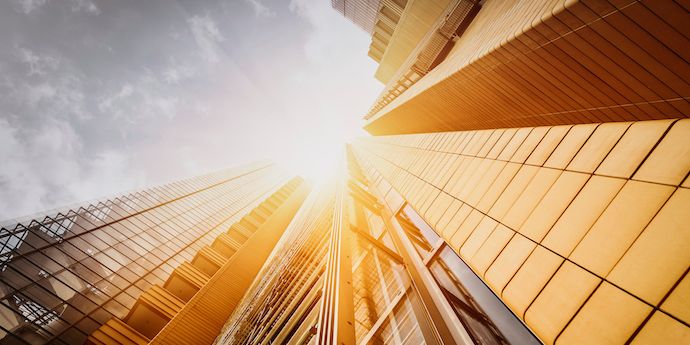 Culture, innovation, and economic opportunity all drive people to live in urban environments. So it's no surprise that the United Nations predicts that another 2.5 billion people will move to the world's big cities by 2050 — 90% of them in Asia and Africa. How will these new city dwellers live? What will their homes look like? These questions are currently inspiring architects, elected officials and NGO's across the globe to advocate for sustainable architectural and housing solutions.
Though 2050 isn't far off, industry experts predict that housing will look and feel both familiar, and radically different in three decades. As architect Craig Hartman of Skidmore, Owings & Merrill puts it, "The human need for natural light and desire to be surrounded by nature are fundamental biological and psychological needs." These elements, he predicts, will play an important role in defining future cities, as will rapidly increasing population density. "Barring catastrophe, there will be more than 9.5 billion people on the planet in 25 years," he says. "That's the equivalent of adding six new USA's to the world's population."
Micro Housing Is a Powerful Solution
With an ever-increasing number of people to shelter, micro housing is a solution that's rapidly gaining attention. Developer Patrick Kennedy of the firm Panoramic Interests has been building high-density urban infill for 25 years. Most recently, he's been developing micro-units with factories in China, where entire apartments — including interiors — are manufactured as stackable modules. This prefab housing is strong, easy to transport, weatherproof and stackable. Because the units use 75% fewer resources than traditional housing, their environmental impact is reduced. Due to their small size and the fact that they're close together, Kennedy says the units can be "heated with a hairdryer" in the colder months.
Micro housing also offers a potential solution to housing the world's homeless and those in extreme poverty, many whom currently live in substandard housing that can be unsanitary and dangerous. Panoramic Interests has developed affordable dwellings called MicroPads. These 160-square foot dwellings function like simple hotel rooms — complete with toilets, showers, and simple cooking facilities. They're carefully soundproofed and well ventilated to keep the units comfortable, and because they're prefabricated they can be stacked easily, up to ten stories in height. Panoramic notes that MicroPads require "40–50% shorter than conventional construction [time] and total project costs that are 25%–40% less," making them potentially appealing to cities with large homeless populations.
Public Spaces for Work and Play
By 2050, cities will have evolved beyond dwelling walls, however. Patrick Kennedy notes that "First, the city of the future will be car-free — people will be sharing cars. The garage is going to go the way of the root cellar. Second, the dwellings of the city will have what I call micro DNA in them — they won't necessarily be tiny but they'll be hyper-designed and hyper-productive. Third, they'll be modular."
With an increase in the number of people residing in small spaces, many urban experts also predict that city living will be more oriented toward public spaces in the future — with sustainable architecture playing an outsize role in the public space. Kennedy foresees vibrant gathering places bustling with activity, saying, "People will partake more in public life, because cities are fun and interesting. We'll see all different ages — cities are fun for 25-year-olds and 85-year-olds!"
City Living is Eco-Friendly Living
Laura Tam of the San Francisco Bay Area Planning and Urban Research Association (SPUR) agrees. Tam predicts that in 2050, "Life is better. It'll be cheaper, easier, and safer to get around — bicycles for people of all ages and abilities, including adult tricycles, e-bikes, etc., will be more common than cars today. She foresees cities that are "bigger and more active, yet also quieter, cleaner, powered by renewable energy and highly resource-efficient."
In many ways, urban environments are already remarkably eco-friendly when compared to suburban enclaves, since so many people share resources and so much day-to-day activity takes place within walking distance. In the future, buildings themselves will make cities even greener by producing more energy than they consume and recycling their own water. Many homeowners are already living this way by installing solar panels that produce power above and beyond household needs, returning electricity back to the grid. And some homes and facilities also use "grey water" captured from sinks and showers to irrigate gardens and yards, and flush toilets, reducing water use by up to 30%. Implemented on a large scale in urban areas, these systems could reduce costs and usage exponentially.
Building materials will play a large role in the sustainability of future cities. Hartman notes that "a rapid move toward a world of composites, hybrids and engineered materials in construction" will contribute to a reduction in the use of resources. He goes on to remark that, in the future "Most of the steel used in construction [will be] from recycled sources, and wood will be re-engineered as composites and micro-thin laminates all dramatically reduce waste."
Future urban dwellers will also move from place to place in different — and greener — ways. Organizing housing around transit will make it simple for city residents to get to school and work. For trips that do require a car, many predict that car share services will become increasingly popular.
The cities of 2050 sound appealing, but they're not without costs — and competition — for urban dwellers, especially in the U.S. Sarah Karlinsky, Senior Policy Advisor for SPUR, believes that American cities are going to need to be more dense to accommodate demand for housing, particularly in coastal cities. Remarking on the ever-increasing expense of housing in cities like New York and San Francisco, Karlinsky asks, "what does this mean for our cities? Who gets to live in them? It's a question we have to grapple with." As urban communities move toward a future that's bigger, smarter and greener, these conversations will be increasingly relevant in the years to come.