Precision Farming Tools Help Feed the World
9.8.16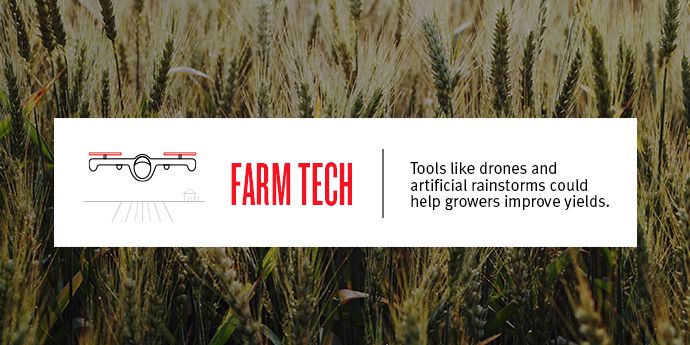 Global food security continues to improve. The UN Food and Agriculture Organization (FAO) estimates that the number of undernourished people has fallen by 176 million over the past ten years. But almost 800 million people — just over one in nine people — still remain hungry, and food security continues to be one of the major global challenges for the future.
Given that most land suitable for farming is already being used for that purpose, a giant leap in food production will have to come from higher yields. Bringing the tech revolution to agriculture, specifically through precision farming techniques, can help make this possible. Geoffrey Carr writes in The Economist that farms are "tightly controlled operations for turning out reliable products." They will, more and more, be driven by science and technology in partnership with learnings from nature.
Today's Farms Give Us a Glimpse of the Future
Farms are already employing more precise, scientific techniques. And according to Carr, they will continue to move in this direction. High-density soil sampling is being used to "predict the fertility of different parts of a field," according to Carr. Detectors in the ground will monitor moisture and the nutrient content of soils. The data generated enables variable-rate seeding, in which the density of plants is tailored to local conditions.
Farmers are already using drones to collect important data to help manage their farming operations. If technology trends continue, half a century from now it may become commonplace for these tiny scouts to see pale green spots on soybean leaves, for example, recognize them as symptoms of downy mildew, and send an alert. Farmers could respond with precision-guided disease control applied by drones to eliminate the disease. And in some farms, the sight of corn stalks that look sunbaked in a bone-dry summer might activate another kind of alarm, one that sends water whooshing through an intricate network of transparent pipes, crisscrossing overhead. Suddenly, an artificial — but much needed — rainstorm would arrive.
The above scenario described by Carr in his article may sound like fiction, but it's already happening, and the rate of technology development and adoption will continue to increase.
Tomorrow's Technology May Be Closer Than We Think
That's because precision farming is, in part, already here. Farmers are using advanced data and prediction analyses to select which varieties and hybrids they plant, for example. DuPont has new tools to enable custom blend crop protection offerings for growers according to ever-changing field conditions and weed-control requirements. In April, 2016, DuPont Pioneer announced the deepening of its relationship with PrecisionHawk — a top provider of drones and drone data tools for the agricultural market — as an important part of the Pioneer digital agriculture platform strategy. The research program of Pioneer has been working with the company for years as a customer. "At DuPont Pioneer, we're driving a new era of agriculture productivity that enables farmers to increase profitability and sustainability through data-driven insights," said Neal Gutterson, DuPont Pioneer Vice President of Research & Development, about the investment.
These new precision tools and the collaborations that are enabling them are just part of DuPont's goal to provide growers valuable prediction-based product placement insights — and help growers meet the food security challenge.