How a Small Controlled Forest Fire Can Promote Biodiversity
9.27.17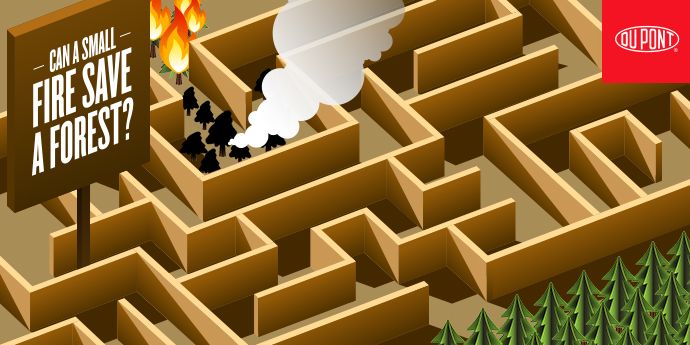 Wearing yellow vests, helmets and smoke goggles, carrying hoes in one hand and metal cans in the other, the fire team moves methodically through the burning forest. But they're not putting out fires. They're starting them.
These foresters, professionals hired by the United States Forest Service, are intentionally lighting small, controlled fires in hopes of burning up the dead branches, leaves, pine cones and other combustible material that fuel big wildfires. It's called "prescribed burning."1 The U.S. Forest Service and others promote the practice as the best way to prevent the fast-growing number of costly and dangerous mega-blazes rampant since the 1980s.
For more than 50 years, DuPont has helped keep front-line firefighters safe and foresters like these safe. More than three million men and women worldwide are protected by fire turnout gear made with DuPont Nomex® and DuPont™ Kevlar® fibers. Together, these fibers offer the flame resistance, strength and durability required. Next-generation Nomex® Nano and Nomex® Nano Flex flame-resistant materials are engineered to be thinner, adding flexibility to firefighting garments. This helps reduce the growing problem of heat stress, which is the cause of more firefighter injuries than any other single factor.
Why is prescribed burning needed? Does it work? And why do some scientists believe it will be more important than ever because of climate change?
Wildfire Growth
Each year, an average of more than 73,000 wildfires burn about 7 million acres of federal, tribal, state, and private land and more than 2,600 structures, according to the U.S. Forest Service. In California alone, 6,938 fires burned 565,070 acres in 2016, reports the California Department of Forestry and Fire Protection.
Between 2000 and 2010, the number of fires burning greater than 25,000 acres has grown sevenfold compared to the 1970s. That number has steadily increased.2 Nine of the 10 worst fire seasons in the past 50 years have occurred since 2000, with 2015 the worst fire season in history. The Forest Service warns this rapid escalation greatly increases threats to responders, citizens, home and property owners, communities and landscapes. That's where prescribed burning comes in.
Back to Nature
The underlying idea is simple: burn combustible forest biomass like saplings and dead vegetation to starve big fires of the easy fuel that can make them rage uncontrollably. Trained teams using "drip torches" carefully ignite and monitor pre-selected, high-risk plots. They're basically recreating wildfires that serve to thin forests naturally.
Scientists say managed burning benefits land, wildlife, and people in several ways. For forests, it relieves trees stressed by overcrowding, easing competition for nutrients and moisture. It enables the survival of fire-dependent species like Sequoias, which need flames to release seeds from their cones. The flames also remove unwanted, non-native species, along with pest insects and tree disease by simply burning them away. The thinning also makes it easier for deer, rabbits, turkeys and other small animals to forage. For humans, controlled burns prevent the destruction of billions of dollars of property while protecting the safety and lives of firefighters.
After a century of U.S. policy to aggressively extinguish wildfires, new appreciation and use of controlled burns have grown steadily, from 1.6 million acres in 2001 to nearly 4 million in 2016. Today, prescribed fires are a key pillar of the "National Cohesive Wildland Fire Management Strategy" mandated by the U.S. Congress in the Federal Land Assistance, Management, and Enhancement Act of 2009 (FLAME).3
Effectiveness Confirmed
Scientists are working both to measure the effectiveness of prescribed burning and more deeply understand the practice in the context of a highly complex ecosystem.
A recent study by the U.S. Geological Survey found that prescribed fires generally reduced surface fuels that cause large wildfires for more than seven years.4 Research of coniferous forests in California and Colorado, published in Forest Ecology and Management, came to similar conclusions.
Anecdotal evidence is also encouraging. Front-line witnesses fighting a 150,000-acre California blaze for more than two months reported its advance drastically slowed after hitting a patch burned with prescribed fire a dozen years earlier.5
Such evidence could help address critics of controlled burns, who point to firefighter injuries, thick smoke hindering visibility and traffic in populated areas, respiratory ailments, and runaway fires like one in Los Alamos, New Mexico, in 2000 that destroyed 400 homes and caused $1 billion in damage.
Hope for Climate Change?
Any mitigation tool is welcome for scientists increasingly concerned that climate change will further worsen the frequency and impact of gigantic, "extreme" wildfires.
"No matter how hard we try, the fires are going to keep getting bigger, and the reason is clear," says Park Williams, a bio-climatologist at Columbia and co-author of a new study on the topic. "The climate is really running the show in terms of what burns." He concludes, "I'd expect increases to proceed exponentially for at least the next few decades."6
The problem is this: average temperatures in forested parts of the U.S. West have gone up about 2.5 degrees Fahrenheit since 1970, and are expected to keep rising. Warmer air holds more moisture, and the air ends up sucking it out of trees and plants and soil. Ultimately, warmth drives fire by drying out the land. A new report by University of Colorado researchers, published in the Proceedings of the National Academy of Sciences recommends expanding controlled burns to grasslands and shrub lands, where 60% of fires occur. 7
For now, various training and research programs continue to gather data and perfect controlled burn techniques, including the National Interagency Prescribed Fire Training Center.8 The Tallahassee, Florida–based Center is a joint project that includes the U.S. Dept. of the Interior, the Forest Service, National Park Service, and the Nature Conservancy.
From Prevention to Safer Fire Fighting
Prescribed burning is one tool to reduce the threat of large fire events. Unfortunately, not every such fire can be prevented. In these cases, the focus shifts from prevention to putting fires out.
Fortunately, the Forest Service commands more than 10,000 firefighters, 900 engines, and hundreds of aircraft. They work closely with thousands of other federal, tribal, state, and local agencies, creating a nationwide force that includes shovel and engine crews, experts, smoke jumper parachutists and helicopter crews.
Prevention and preparation remain the best protection against forest fires. But setting small, controlled blazes to avoid bigger ones is something even Smokey Bear appreciates.9
---------------------------------
Sources
1 https://www.fs.fed.us/managing-land/fire/resilient-landscapes/prescribed-fire
2 https://www.fs.fed.us/fire/fmt/fmt_pdfs/FMT74-3.pdf
(Fire Management Today, p.15; "Fire Management in a Changing Climate")
3 https://www.forestsandrangelands.gov/strategy/thestrategy.shtml
4 https://www.werc.usgs.gov/ProductDetails.aspx?ID=5686
5 http://www.takepart.com/feature/2016/08/19/prescribed-fire/
6 http://www.ldeo.columbia.edu/news-events/climate-change-has-doubled-western-us-forest-fires-says-study
7 https://insideclimatenews.org/news/17042017/wildfires-climate-change-global-warming-forests-controlled-burns-west
8 https://www.fws.gov/fire/pftc/gallery/index.shtml
9 https://smokeybear.com/en/about-wildland-fire/benefits-of-fire/prescribed-fires