Rita Gandhi: Creating Motivation, Enthusiasm and Excitement for Science
1.12.17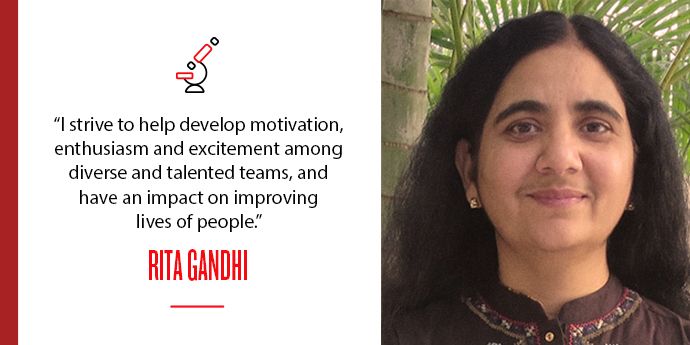 For Rita Gandhi, the choice between education and science proved to be a tough one. With postgraduate qualifications in plant science, her mother and uncle encouraged her to use her knowledge to educate a new generation of scientists as a high school teacher. With their support, she gained entry into the education program in one of India's most prestigious institutions. However, visits to her brother-in-law's laboratory and qualifying for highly competitive research fellowship, changed everything…
A science career takes shape
One of the original team of scientists when the DuPont Knowledge Center India opened in 2008, Rita's interest in science began in high school. As with many of her classmates, she hoped for a career in medicine or engineering and chose Science in 11th grade.
"My interest in studying science started in senior years in school when I used to look forward to lab practical classes," she said. "It was fascinating to start experiments and wait for their results."
For many Indian parents of that era, having their child study medicine or engineering is a dream fulfilled. Rita says that while she did apply to engineering and medical schools, she eventually completed a Bachelor of Plant Science. She followed this up with a master's degree, after which, at her family's urging, she enrolled in a Bachelor of Education program. At the same time, she gained eligibility for a five-year research fellowship to gain a Ph.D. It was shortly after this that her plan to become a teacher took a different turn.
"I was in a dilemma about whether to go for a Bachelor of Education or Ph.D.," she said. "Just a few days before research fellowship validity was to expire, I joined Ph.D. in Plant Molecular Biology, Delhi University.
"I was influenced by my brother-in-law who was finishing his Ph.D. and I used to visit his lab and was riveted by the kind of work they were doing."
Rita then went to the United States for seven years for post-doctoral work. She says that working there helped her to develop a greater interest in a career in science. With this in mind, she sought to pursue opportunities in industry, when something exciting came up closer to home.
"When I heard DuPont was opening a research facility in India, I saw exciting opportunities to return home."
And the rest, as they say, is history.
Science for the betterment of humanity
For Rita, the pursuit of science helps find solutions for the betterment of humankind. As lead Scientist in Integrated Product Characterization and Development, contributing to a better society is an everyday reality. In the DKC's labs, she and her team work towards bringing biotechnology solutions for crop improvement. Her goal is to change thinking to reflect the true position of agriculture in society.
"I wish to be a part of the process of change that brings technology solutions in agriculture and makes agriculture as lucrative and respected as other professions," Rita said. "I also want fruits of science and technology to have a wider reach and not just serve a handful."
While her science career is still very much in the development phase, Rita's many achievements in the area of crop biotechnology are already taking her on the path towards achieving that. Among the highlights have been establishing elite line gene transformation methods, delivering highest quality events for various biotech programs, and accelerating event advancement while ensuring required trait characterization in the lab, greenhouse and field before it can go for product development. Currently she and her team are focusing on development of genome edited products in partnership with the trait discovery group. In the simplest of terms, what this means is that she and her team are taking promising leaps forward in shoring up the food supply through advanced breeding technologies.
Inspiring team leader
Married with a 13-year-old daughter, Rita juggles a busy career with family life, and is very active within DuPont networks and in the local community. She is an organization vibrancy champion and the DuPont Women's Network leader for the DKC India, and started a community initiatives program, championing a snack and art sale fundraiser. She makes time to volunteer for taking part in science discussion in schools.
Despite science having been a part of her DNA since high school, the practical reality of working in a laboratory generated some challenges. Rita says that the key to success has been teamwork.
"Ideation may happen in isolation, however, you need a team for ideas to multiply, mature and take to action towards the final product development," she said. "The key for great things to happen is collaboration at multiple levels.
"The team was challenged multiple times from starting projects from scratch, establishing elite line transformation, devising method for marker free plants and coordination with multiple stakeholders to take programs to next levels.
"It was exciting and proud moment when twice team received DuPont Ag Biotech achievement awards.
"I strive to help develop motivation, enthusiasm and excitement among diverse and talented teams and work alongside to solve problems and create value-added products for our customers, and for our company, thereby, have an impact on improving lives of people."
And, by all accounts, Dr. Rita Gandhi is doing just that.