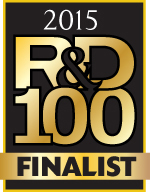 The annual R&D 100 Awards celebrate the most significant technology inventions of the past year. Dow was recently highlighted as a leading innovator with 21 total products selected as finalists for 2015. A wide range of Dow solutions were recognized, including more sustainable electronics, water-efficient appliances, and innovations that improve safety and fuel efficiency in motor vehicles.
Three of the finalists are technologies developed by Dow Electronic Solutions. Each was commercialized in the last year and developed as a market-focused solution, addressing key customer challenges.
Ikonic™ Polishing Pads  are used for chemical mechanical planarization (CMP) in a wide range of advanced polishing applications. Dow's Ikonic pad platform is a family of products that deliver multiple benefits in copper, tungsten, ILD, STI and other polishing applications. The technology was designed to help customers meet emerging requirements for next-generation semiconductor devices. The product family can be tuned to meet customers' varying needs in removal rate, selectivity and planarization efficiency. Ikonic pads are designed to improve defectivity performance for higher wafer yields, with the potential for extended pad lifetime leading to greater tool uptime.
Microfill™ THF-100 Electrolytic Copper  is designed to provide through-hole fill of inner core layers for IC-substrate printed circuit boards (PCBs). Compared to conventional via fill processes, this new technology improves reliability, and both electrical and thermal conductivity. Customers benefit from reduced process cost and a shortened manufacturing process, meeting their needs for high-density interconnect (HDI) PCB designs that enable smart devices.
Solderon™ BP TS6000 Tin-Silver  plating chemistry helps electronics manufacturers to "take the lead out" of solder used in chip packaging, while doubling productivity and maintaining reliability. A high-performance, lead-free alternative, Solderon BP TS6000 Tin-Silver is optimized to handle a wide range of solder bump plating applications, from conventional C4 bumping to demanding, next-generation fine-pitch Cu pillars and micro-bumps used in 2.5D and 3D IC packaging technologies. Benefits include enhanced plating performance, bath stability and ease-of-use, thereby enabling the industry's widest process window with the most robust process flexibility and a competitive cost of ownership.
This year's winners will be announced at the annual awards gala at Caesars Palace in Las Vegas on November 13, 2015.
Update November 12, 2015: Look for our new three-part "behind the scenes" interview series with Dow experts to learn more about the innovations behind Ikonic™ Polishing Pads, Microfill™ THF-100 Electrolytic Copper, and Solderon™ BP TS6000 Tin-Silver.